We take pride in offering custom fit jackets at McNamara's, tailored perfectly for body and sleeve length at no extra cost. This is especially appreciated by student athletes such as swimmers and basketball players, who often have longer arms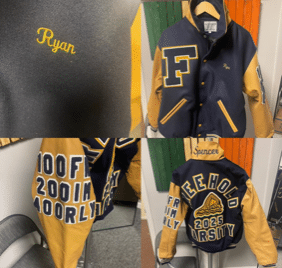 and bodies. Our flexible alteration service ensures a perfect fit for every body type.Our jackets are crafted with top-quality materials, featuring a 24 oz Melton Wool Body, Leather sleeves, a warm 4.5 oz quilt lining, non-pill knit, a convenient inside cell phone pocket, and a snap front. We also provide the option for a zipper front.
To get started, simply book an appointment with us. The fitting process usually takes around 15 minutes, but we schedule 30-minute appointments to ensure unhurried perfection in fitting and design selection. Our vast selection of logo options caters to various sports or activities.
We're excited to inform you that we've recently introduced an all-inclusive pricing model. This means that the cost of the entire jacket, including any logos or lettering on the sleeves, is covered in one comprehensive price. We encourage you to contact us to learn what this one-price deal includes – you're sure to be pleasantly surprised.
Please note that our turnaround time for jackets is usually 8 to 10 weeks, depending on when you place your order. If you're planning to gift a jacket for Christmas, please ensure to place your order by October 15th for guaranteed delivery.
You might wonder why it takes us that long to deliver a jacket. As the saying goes, good things take time. Each jacket is individually crafted from scratch, custom cut, and sewn together specifically for your son or daughter in the factory. It's a meticulous process, but the results are worth it. To experience our exceptional service and quality, call us today and make an appointment.